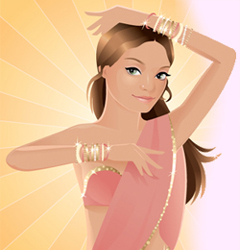 Bollywood Sparkles' award winning dance classes have been running for over 11 years and are taught by Julie:
"I have studied dance since childhood & have experience in a wide range of dance forms - everything from ballet, tap & modern to morris, jive & Bollywood.
Bollywood dance has been my passion since I first discovered the Indian film industry in 2005. Since then I have studied both classical & modern Indian dance & have choreographed & performed Bollywood dancing for the stage."
Julie is a professional member of the Foundation for Community Dance.
Testimonials:
"Better than Salsa" - Indian evening, Oasis Restaurant
"It was such a treat for us for you to teach at my sister's party, many thanks!" - 16th Birthday party
"So much fun and a wonderful, lovely teacher" - class member for 4 years
"Great watching and joining you last night. Four happy children." - Curry Christmas event
"Your group was great and we all really enjoyed your dances." - Limpenhoe dinner dance
"Bollywood dancing makes my soul smile." - class member for 3 years
The Bollywood Sparkles Dancers have performed and offered workshops at a number of events since 2011 including dinner dances, private parties, cultural and community events, charity events and residential homes.